Filter by Category
Guitar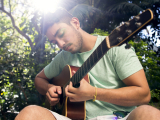 Guitar Workshop - Saturdays
with Charlie Channel
Strum and play the acoustic guitar in a group class. Learn how to play popular songs, simple folk music, and your own choice of music.
Enrollment: For students ages 12-18
Location: 1765 East Bayshore Road, Suite G, East Palo Alto
Dates: September 7 – December 14, 2019
Day: Saturdays
Time: 11am – 12:30pm
Full Course
Private Lessons: Guitar | Bass | Ukulele
with Charlie Channel
Learn to strum and play stringed instruments, either the acoustic guitar or ukulele with your own private instructor.
Special Note: Limited availability for private lessons. Registration for private lessons are not available online. Sign up to be placed on the private lesson interest list by clicking on the registration link for this class and we will contact you to determine if we can schedule private lessons for you. If we can provide private lessons for you, the specific schedule will be determined between you and the instructor. Private lessons will take place on a weekday between September 2019 - December 2019.
Full Course