Filter by Category
Guitar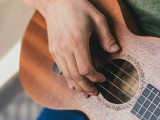 Ukulele Workshop - Wednesday
with Charlie Channel

Current session started Jan 18, 2020 at 6 pm
Learn to strum and play ukulele whether you are a beginner 1 or beginner 2 this class is a great introduction to a new string intrument!
Enrollment: For students ages 12-18
Location: 1765 East Bayshore Road, Suite G, East Palo Alto
Dates: January 22 - May 2, 2020
Day: Wednesday
Time: 6pm - 7pm
Registration Unavailable
Guitar Workshop - Tuesdays
with Charlie Channel

Next session starts Jan 21, 2020 at 5 pm
Strum and play the acoustic guitar in a group class. Learn how to play popular songs, simple folk music, and your own choice of music.
Enrollment: For students ages 12-18
Location: 1765 East Bayshore Road, Suite G, East Palo Alto
Dates: January 21 – April 28, 2020
Day: Tuesday 
Time: 5pm – 6.30pm